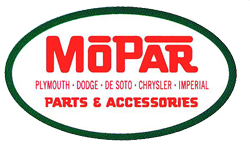 Thru The 50's and 60's
In the Fifties, when Chrysler came out with the "Hemi" engine, racers quickly realised how much power these engines could generate. Racing great Lee Petty and others were receiving engines and parts directly from the factory. If the factory made some improvement in the design or construction of the components, the racers got them.
Mopar started to mean more than just the name on the box; it had become slang for any car that was a product of Chrysler.
In the Sixties, Mopar put together a catalog of all its high-performance engines and parts and made the catalog available to the general public. Hot rodders and drag racers soon jumped onto the Mopar bandwagon. Guys like Richard Petty, Dick Landy, Sox & Martin and others were winning with Dodge and Plymouth race cars. On the streets, Road Runners, Chargers, Barracudas, Darts and Super Bees were running stoplight-to-stoplight action. A lot of street racers were buying Mopar parts to gain speed and performance. While the racing was great for exposure, the real reason for motorsports was to help sell cars. A lot of the hot cars on the streets were Chrysler products, with eager owners who wanted to burn even more rubber! Chrysler didn't endorse street racing, but reality was what it was, and there was lots of street action going on.